Shipping and off-shore
NoiseControl in Ships and Offshore Plattforms by Damping Techniques
Because the steel and aluminium constructions used for ships and plattforms are stiff and therefore highly resonant, no exceptional forces are required to excite the structure and give rise to noise, which is then transmitted efficiently. Viscoelastic damping materials, used in properly designed treatments, can be used to control that noise transmission, by damping the structure and removing energy from the resonant vibration.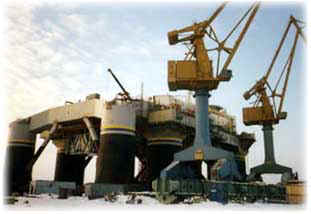 Deck covering systems

The viscoelastic layer forms the filling of a sandwich construction between the steel of the deck and a latex modified concrete, which at the same time provides deck levelling. Over 200.000 square meters of Swedac Deck covering systems have been installed over the past 15 years.


System V1, V2 and U 10

System V 1: Viscoelastic sheet VS - 15 glued to the substrate by means of B-31 contact adhesive and constrained with SBR - latex concrete. Ideal for small applications where the whole installation can be finished in one day and in wet areas where high water resistance is required.
Swedac SBR-latex concrete Thickness: 2-2.5 times steel thickness.
Damping layer VS, ACM or DG-U I.
Steel deck

System V2: Damping layer ACM, supplied in liquid form and trowelled out on the deck to a thickness of 2 mm wet layer and constrained with SBR - latex concrete.

System U 10: Damping layer DG-U1, 2 component polyurethane, for use on aluminium deck and wet areas. Applied at 1.5 mm thickness and constrained with SBR - latex concrete.

System U 11

System U11: Damping layer DG-U 11 constrained with perforated aluminium. Specially developed damping system for high speed aluminium hulled vessels where low weight and high damping performance is essential.
1. 1.5 mm flexible distance.
2. 1-3 mm perforated sheet.
(Perforation 35 %)
3. 1.5 mm Dampling layer
DG-U 11
4. Deck plate

Floating floor PVP - 2,0/2,0-50

SWEDAC PVP floor is produced from 4 mm "sandwich" steel or aluminium laminated with 50 mm mineral wool (140 - 150 Kg/m3) and supplied in cassette form, ready to install onboard.
1. PVP - 2,0 - 2,0 sandwich plate
2. 50 mm rockwool, 150 Kg/m3

Styrolight underlay

Highly flexible impact noise reducing underlay for parquet and wooden floors. Supplied as compound which at the samt time levels the deck. Very low weight, 700 Kg/m3.
1. Styrolight underlay
Thickness: 10 - 20 mm
2. Steel deck.

Structural damping

SWEDAC Damping Cassettes

Damping Cassettes consist of a U-Profile backbone into which the viscoelastic material is cast and into which individual fixation legs are imbedded. Damping Cassettes are very practical and simple to fit by welding to flat or curved surfaces and are effective on plate thicknesses from 4 - 50 mm.



Viscoelastic sheet VS and compound DG-U6

These are heavy duty treatments, having a wide range of temperature and frequency performance. Constructions can be designed for constrained layer applications on structures such as ships bulkheads, hullsides and decks. Viscoelastic layers are typically of 1 - 2 mm thickness, constrained with the same material as the main structure of around one-quarter of its thickness.

SWEDAC PVP Vibration damped sheet metal

Used for construction of high efficient floating floors, low noise radiating lining and improved transmission loss between cabins. Available in steel, stainless steel and aluminium.

Constraining layer and levelling compounds
SWEDAC SBR-latex concrete



Ordinary mortars and concrete have a high compressive strength. However they have a low tensile strength. SWEDAC SBR-latex can minimise these deficiencies, e.g. in a typical mix of 1 part cement, 3 parts coarse sand and using 5 - 8 % by weight of SWEDAC SBR-latex, the tensile strength is doubled. A simple practical demonstration is to paint a slurry of the latex and cement, and a slurry of water and cement onto steel strips. After hardening it will be found that only the strip painted with the latex/cement can be bent without the coating flaking off. This demonstrates the improvement in adhesion and flexibility given by the latex.
Top of page

LANAT PU System



Weather resistant polyurethane compound. Can be filled with sand up to 60 volume %. The system includes antislip and UV resistant topcoats.

Test and Certificates
Primary deck covering tested in accordance with IMO res A.653 (16) and A.687 817). Meets the requirements of the following authorities. Certificate from the actual authority is available on request.
Swedish Administration of Shipping
Bureau Veritas
Finnish Board of Shipping
Norwegian Maritime Directorate
Det Norske Veritas
USSR Register of Shipping
Danish Goverment Ships Inspection
Germanischer Lloyd
Polish Register of Shipping
Lloyds Register of Shipping
See - Berufsgenossenschaft
China Classification Society
Department of Transport (UK)
Japanese Goverment
ABS Europe
French Marine Marchande
NK - Register of Shipping